---
What are "Places"?
Places are your riser placements, standing arrangements, seating charts, etc. They have many names in the musical world, so we decided to just refer to them as your "places".

Places can have many configurations, including risers wth 3 or 4 steps, up to 11 sections, and a curved or inverted center. But, not every group in arranges on risers, so we also offer "platform" squares that can be arranged and pivoted around the available floor space to best match your setup.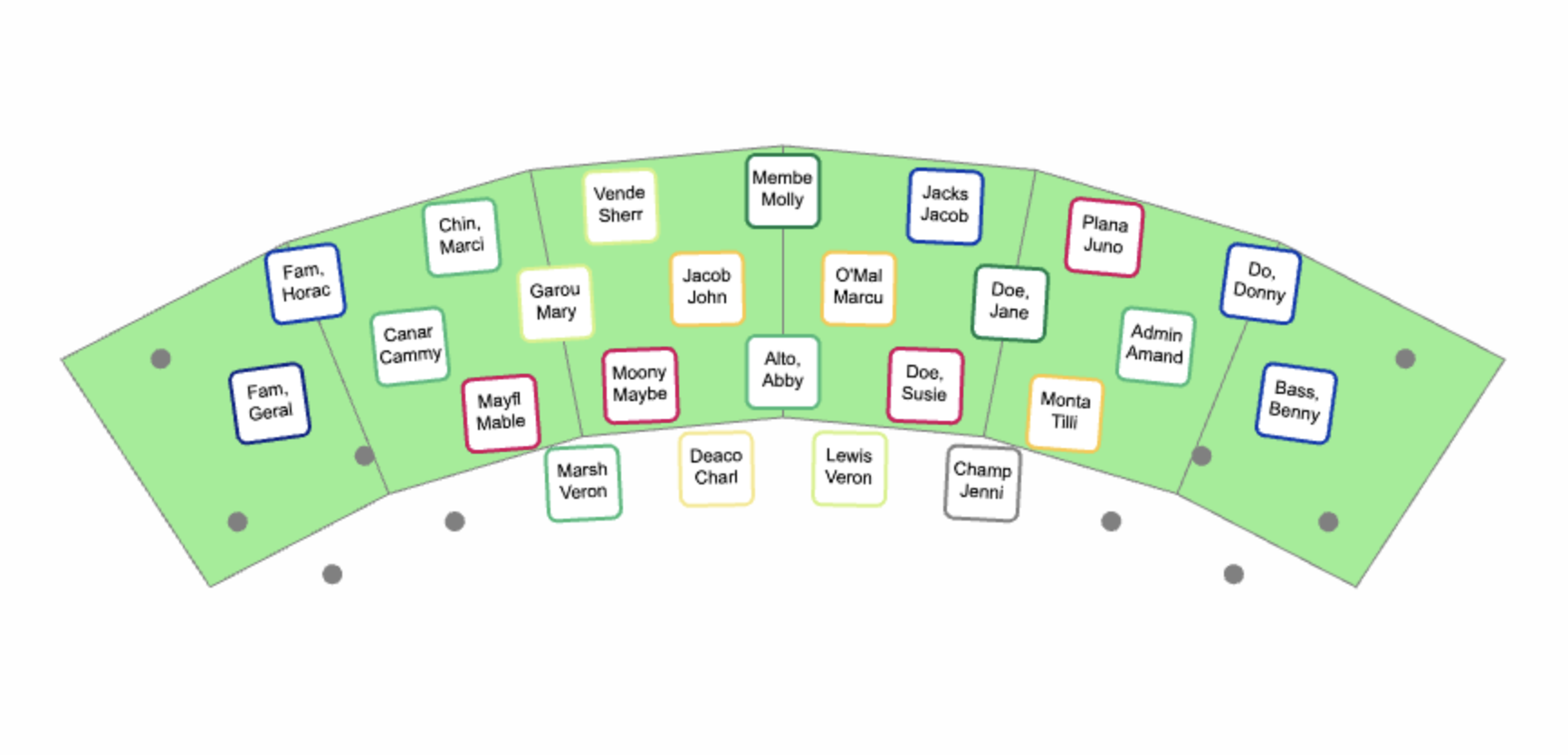 ---
Configuration options
Places can be configured in several ways
One set of risers


The configuration settings for risers are on the right hand side when in edit mode. These risers can have up to 11 sections across, and can be 3 or 4 "steps" up. You can expand and contract the dot spacing You can also choose if the spacing is even or odd in the front row. And when the number of sections used is odd numbered, you can choose if the middle section is inverted.



Multiple platforms

You can add several platforms using the +Platform button on the left. Platforms can be dragged around by clicking anywhere on the green background. They can be deleted using the small x in the top right corner. Their size and shape can be changed using the angled blue corner on the bottom right. You can pivot a platform by using the circular arrow in top middle center of the platform. Using the small arrows on the middle right side of a platform, you can expand and contract the dot spacing.


Floor space

You can also place people anywhere on the white "floor" space.

Future development
We plan to add more features to Places in the near future! These include but are not limited to:
- pdf export for printing
- profile photo views
- voice part colour legend
- auto-fill of risers
Is there something you feel "Places" needs to make it perfect?
Contact Support at support@groupanizer.com!
Account voice parts will determine the thin coloured line around their square on their placement. If you need to edit your site's voice parts, you can do by going to:
Admin Tools & Settings > Vocabularies
Click on "manage terms" across from Voice Parts.

You can also rearrange the order in which the voice parts appear on this page.
If you want to change the colours associated with the voice parts within your site, go to:
Admin Tools & Settings > Vocabularies > Voice Part settings

Then click into the colour field to enter a code, or select a colour using the colour picker.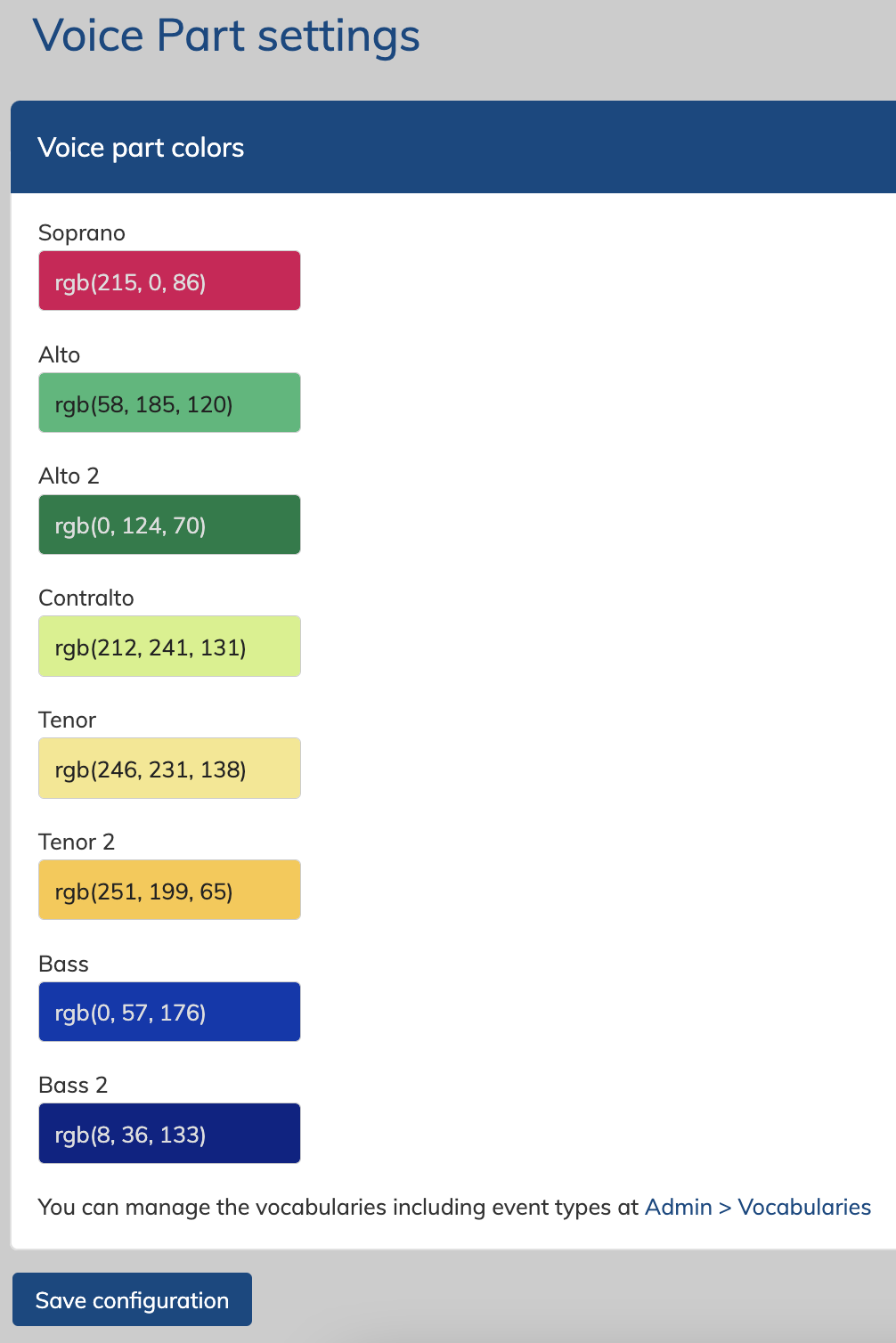 ---
Create Places
To create a new "places", go to:
Music > Add Places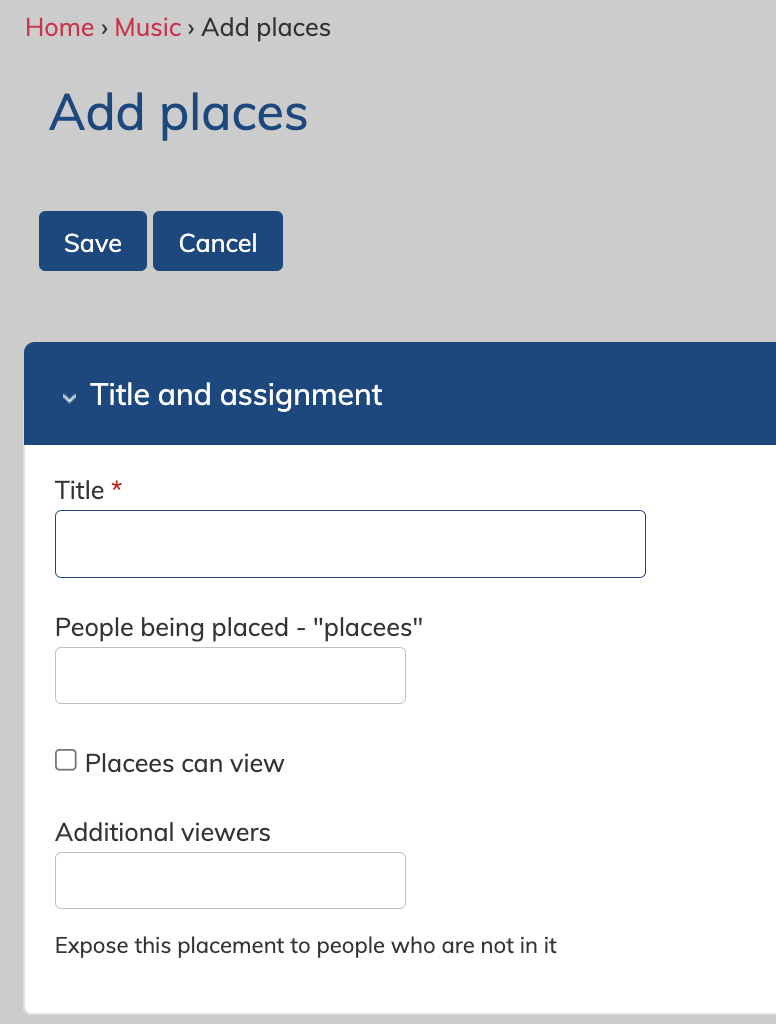 You will need to add a title, and select the account sent that is being placed. Usually, this is members, but if you have multiple choirs, you will probably want to select their subgroup.

You can choose if placees can view this placement. Leave this unchecked if you're creating a draft and don't want singers to see it yet. Checkmark it when you're ready for them to view the placement.
You can add additional viewers by account set as well. Sometimes this is useful if you want other people/account sets to see the placement before it's accessible to the singers/placees. Or, perhaps people other than just the singers will need access - you can add them here.
Once you select your placees with the settings above, they will appear bellow in the "bullpen" area of your places.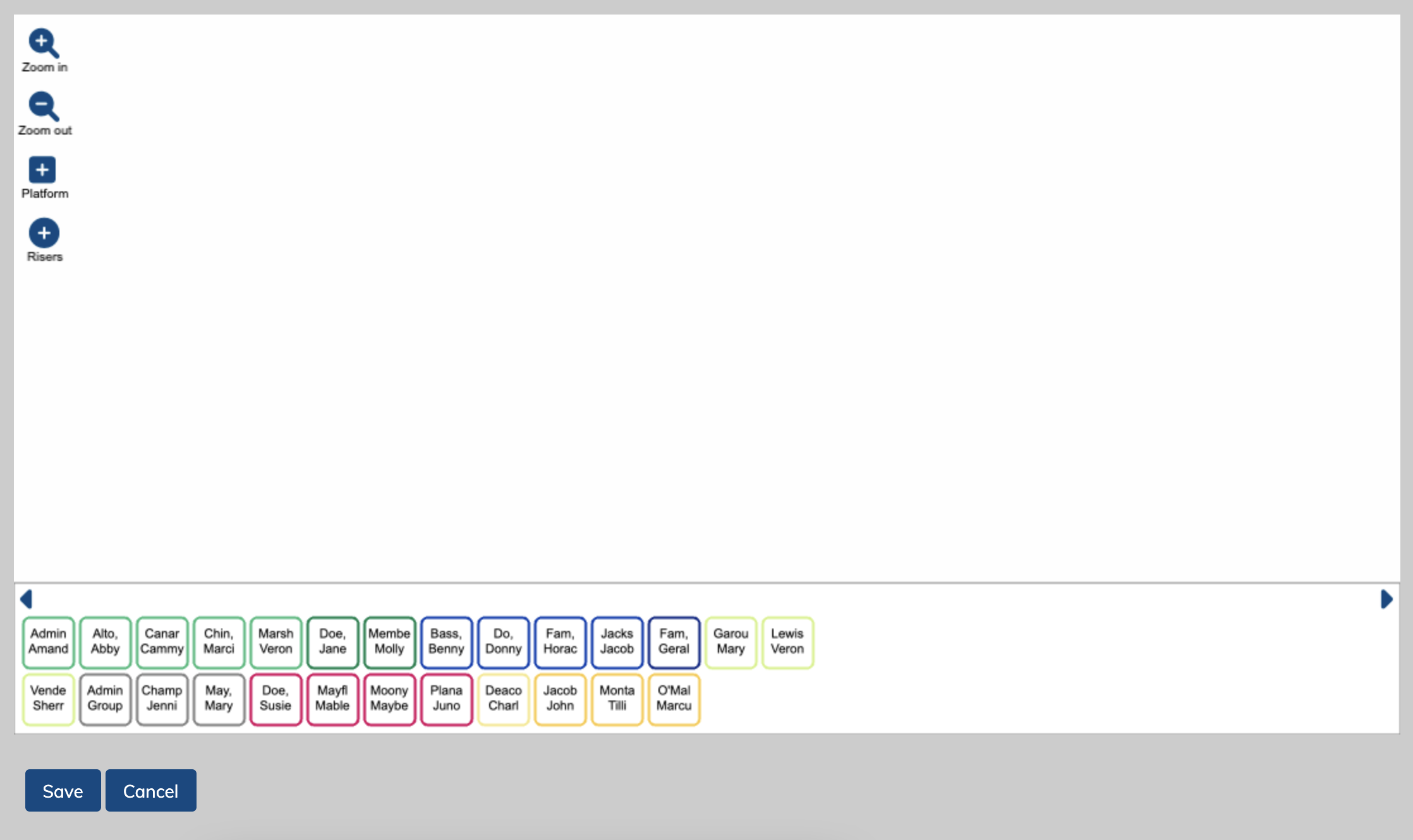 Refer to the configuration settings discussed earlier to begin building your placement. You can ass risers or platforms using the buttons on the left. You can also zoom in and out of your placement as necessary.

Be sure to save your placement using the "save" button.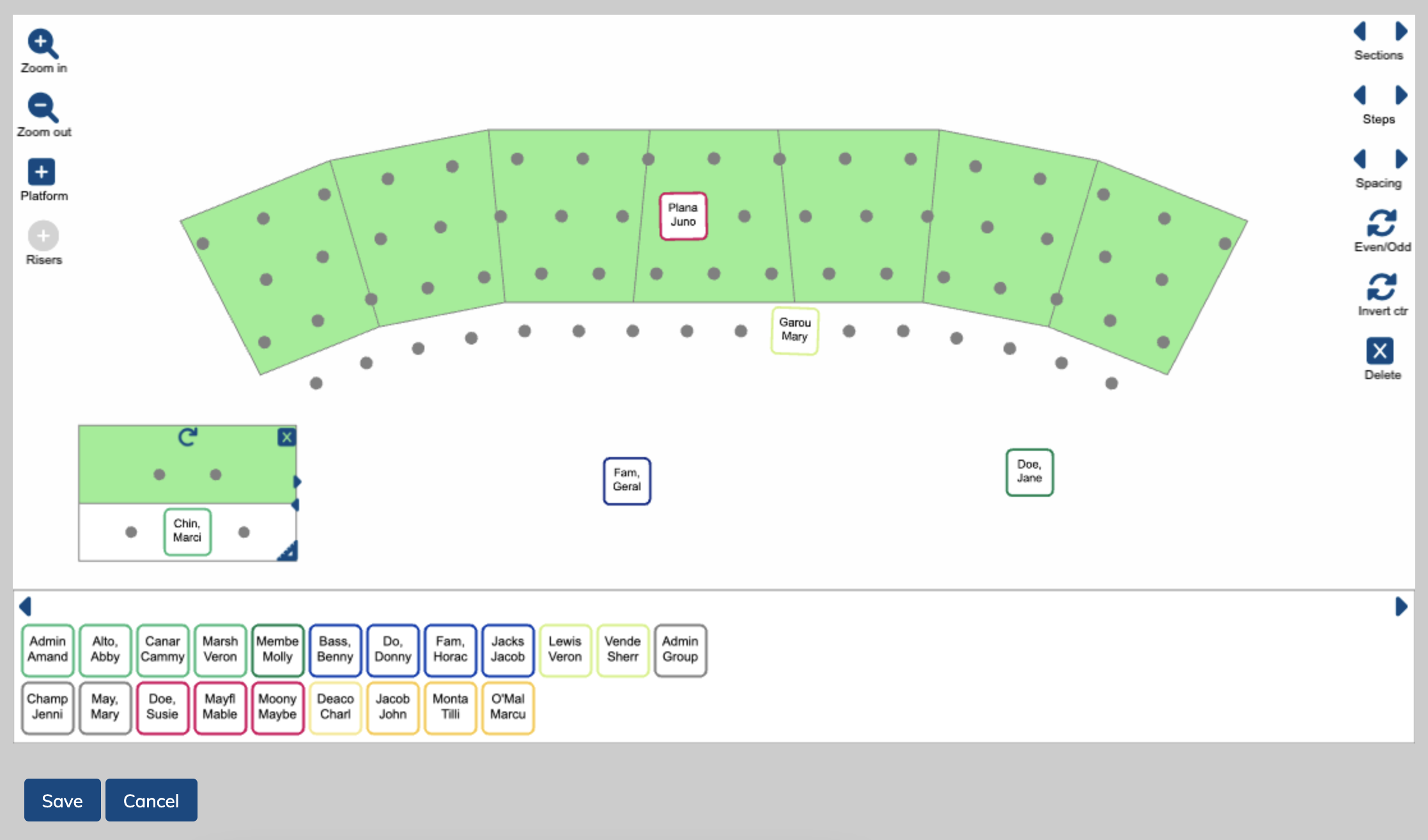 You can copy any Place you already created by going to the edit tab of that Place, and clicking the "copy" button.

You can delete any Place you've created by going to the edit tab of that Place and clicking the "delete" button.
---
Manage Places
Admins, Managers and Coordinators can access all Places via the "Manage Places menu item.
Music > Manage Places

Click the Places name to view it, or click the edit pencil to edit it.
From the edit view, you can also delete a Places.
---
For Members
Members and other users will only be able to view places that they have been given access to view, either as a placee with permission to view, or as "additional viewer" .

Viewing Places
To view the places you have been given access to, go to "Places" in your menu on the left.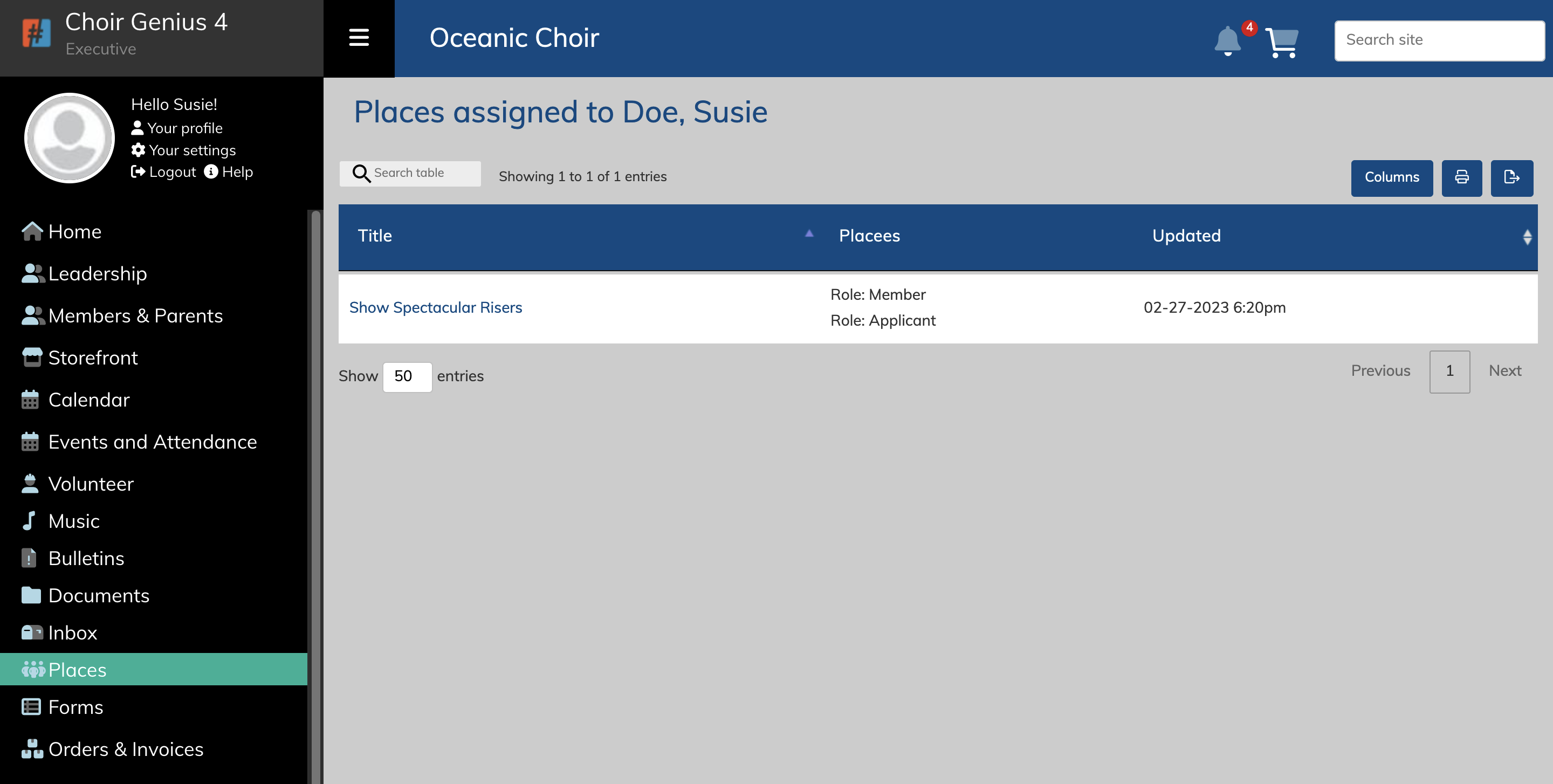 Click the title to view your Place.
When viewing a Place, you can use the zoom icons to zoom in and out to find your name. If you need to, you can click and drag the placement to look around.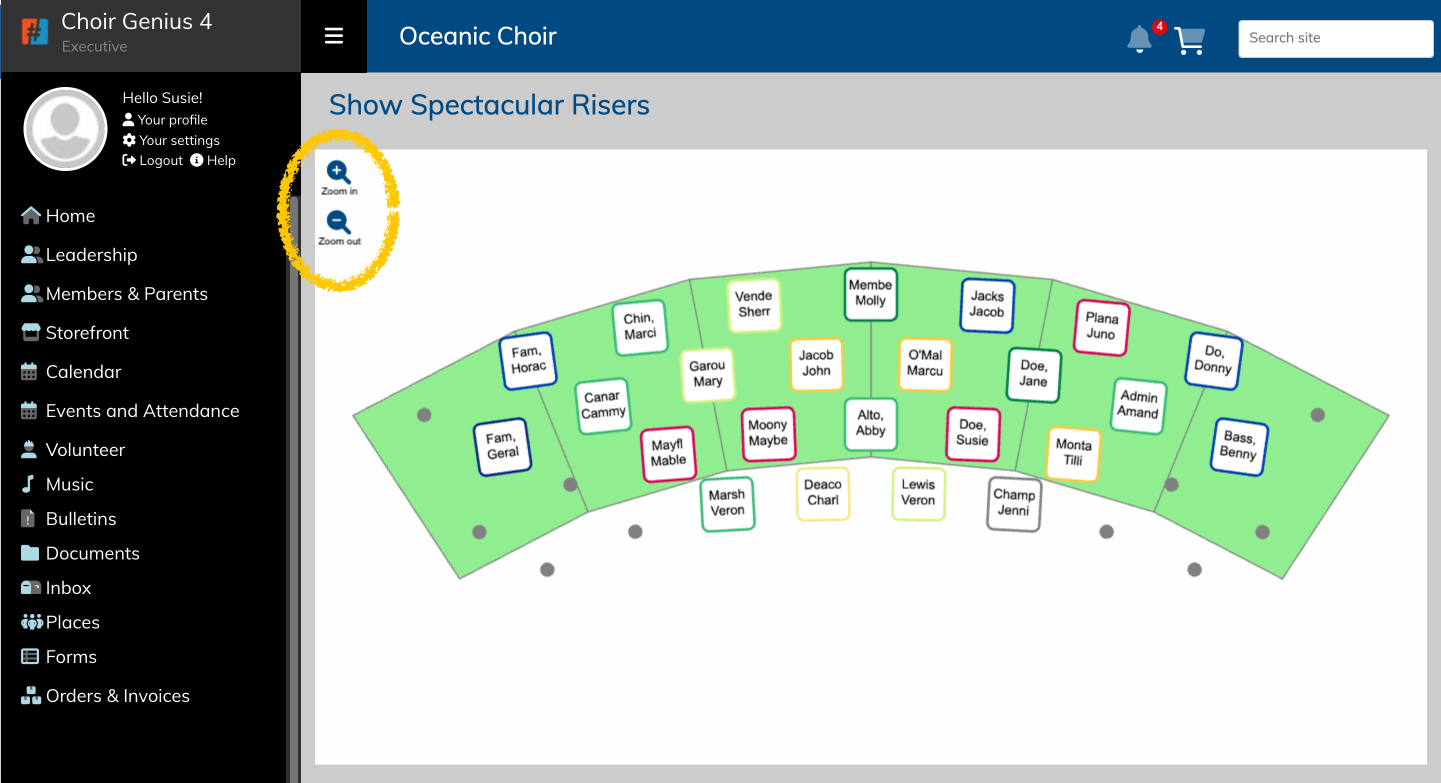 ---